Who we Are
Solving big problems requires seeing the big picture. But for many of today's innovators, a truly global point of view is out of reach since access to space has long been limited.
Until now.
Paul G. Allen founded Stratolaunch to get game-changing ideas off the ground by making space launch more reliable, affordable and accessible than ever before. From uncovering better climate data to protecting endangered species to solving humanitarian challenges, the potential benefits of data collected from satellites are world-altering.
It's these possibilities that drove us to develop the world's largest plane, which acts as a launch pad in the sky, bypassing many of the hazards that cause ground-launch delays here on Earth. From our base of operations at Mojave Air & Space Port, we're creating a world where booking a satellite launch is as routine and convenient as booking a plane ticket. So more people — across more industries — can see their big ideas take flight.
With Stratolaunch, the most exciting thing about space is how amazingly close it is.
Our vision
Your orbit, anytime.
Our Mission
To empower the world's problem solvers.
Our Values
Deliver today. Grow for tomorrow. Accuracy and integrity always.
Paul G. Allen
Founder and Chairman
Paul funded SpaceShipOne, the first private spacecraft to carry a civilian into suborbital space and safely home again — an historic triumph that in 2004 earned the Ansari X-Prize. Paul's founding of Stratolaunch seeks to build upon this success in space flight by achieving yet another breakthrough — the advancement of airport-style access to low Earth orbit, which Paul believed will open scientific and technological possibilities for humanity and our planet's future.
Jean Floyd
Chief Executive Officer
With more than 30 years in the aerospace industry, Jean has extensive experience leading air-launched space vehicles, launch operations and spacecraft programs. A graduate of the U.S. Air Force Academy, Jean's career in space began on active duty in the Air Force and continued as the Program Manager for Orbital's Pegasus system. Most recently, Jean was Vice President and General Manager for the civil and defense division at Orbital ATK, where he managed P&L for Human Space Systems, National Security Space, Science and Environmental, and Advanced Flight Systems.
Jean holds a master's degree in Engineering Management from the Florida Institute of Technology.
Brian Morse
Senior Vice President, Operations
Brian is responsible for program management, strategic development and business operations at Stratolaunch. He brings over 30 years of management and executive experience in the development of space systems for NASA, the DOD and the commercial sector.
A graduate of the Massachusetts Institute of Technology, Brian has contributed to the success of numerous spacecraft and launch vehicle systems with particular emphasis on entrepreneurial "New Space" ventures. Joining Orbital Science in the start-up phase, he directed the mechanical engineering efforts for the air-launched Pegasus launch vehicle development, later rising to Senior Vice President, Technical Operations. He then contributed to the early development of SpaceX launch vehicle systems as a consultant to Elon Musk. Most recently, Brian initiated and managed, through preliminary design, the LauncherOne business area at Virgin Orbit before taking over responsibilities for the company's advanced program development.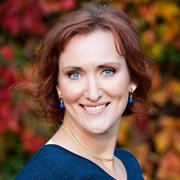 Hanna Kubiak
Vice President, Business Development
As Vice President of Business Development at Stratolaunch, Hanna is responsible for commercial customer interface, market analysis, strategic and tactical teaming relationships, marketing and proposal activity.
Hanna brings more than 20 years of business development, product management and customer operations experience in the commercial space industry. Prior to joining Stratolaunch, she was Director of Business Development at RUAG Space USA, working across all levels of the launch vehicle industry. She also held the role of Business Development Manager at Virgin Orbit, responsible for initiating the LauncherOne customer base and securing multiple launch contracts prior to first flight. Hanna's previous roles include senior sales and operations positions at DigitalGlobe, GeoEye and Space Imaging (now Maxar). She holds a Master of Science degree with a concentration in remote sensing, having attended the University of Southampton, the International Space University and Stanford Graduate School of Business.
Melanie Preisser
Vice President, Government Relations
Based in Washington D.C., Melanie focuses on building relationships and positive interactions with government agencies and officials for Stratolaunch. She brings more than 25 years of diverse corporate and government experience in strategy and business development, acquisitions, systems engineering, satellite operations, and test and evaluation of space-based and airborne systems.
Melanie began her career as an acquisitions officer and project engineer for the U.S. Air Force. Prior to joining Stratolaunch, she served with the Office of the Under Secretary of Defense for Acquisition, Technology and Logistics. She was responsible for acquisition oversight and coordination of strategic, space and intelligence programs executed by the Department of Defense — alongside counterparts in the Defense Department, the National Intelligence Community, the Executive Office of the President and the Uniformed Services.
Melanie has received numerous awards for her work, including the Defense Meritorious Service Medal and the Air Force Association's Field Grade Officer of the Year. She holds a bachelor's degree in Electrical Engineering and master's degrees in Systems Engineering and Business Administration.
Dr. Zachary Krevor
Vice President, Engineering
Dr. Zachary Krevor is responsible for engineering at Stratolaunch, including the conversion of the carrier aircraft into a mobile launch platform, launch vehicle development and the technical integration of launch systems within the Stratolaunch architecture. Dr. Krevor also oversees mission systems, mission operations, and ground and airborne support equipment.
A Ph.D. graduate of the Georgia Institute of Technology, Dr. Krevor has experience with a wide range of spacecraft and launch vehicle programs. He worked as both a reliability engineer and a propulsion analyst for the Lockheed Martin Orion program and was a member of Lockheed's Altair Lunar Lander team. Most recently, Dr. Krevor was a Chief Systems Engineer on the Dream Chaser program for Sierra Nevada Corporation. He worked primarily with the Commercial Crew variant and led the Advanced Development group. Dr. Krevor is also a senior member of the American Institute of Aeronautics and Astronautics (AIAA) and the Space Systems Technical Committee.